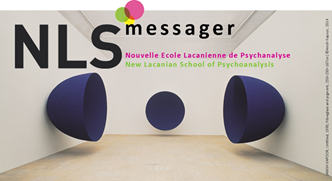 Dancing For Joyce  
Psychoanalysis and Lucia
Raphael Montague
 
Language and the Letter
As a young woman, Lucia Joyce had engaged firmly with practice of speech and language and writing culminating in for example her fine illustration of certain lettrines of her father's work and with practices of the body in terms of her proclivity for the art of dance. In her name already preceding she already carries a signifier "Joy" which has an equivalence to that of the name of Sigmund "Freud"- Freud carrying a resonance of joy in German[1]. And of course Lucia's father being no stranger to something of the work of Freud where for example early on in the 20th Century, during his lessons with Triestine lawyer Paulo Cuzzi the Freudian concept of a formation of the unconscious had emerged as a topic for discussion in which it is clear to me at least that the seeds for "Work in Progress" and a certain negative transference to Psychoanalysis were already well set. Ellmann has it as follows:
"As when Cuzzi, who was studying Vico in school, discovered that Joyce was also passionately interested in this Neapolitan philosopher. Freud too became a subject of conversation. Cuzzi was reading Freud's Five Lectures on Psychoanalysis, and he talked with Joyce about slips of the tongue and their significance. Joyce listened attentively, but remarked that Freud had been anticipated by Vico."[2]
A remark the substance of which returns in the fact of Finnegans Wake being itself written as a grand formation of the unconscious, as a dream "Freud's royal road to the unconscious" in which the very famous first / last sentence as yet unwritten in 1912 sustain the articulation and tension:
A way a lone a last a loved a long the / riverrun, past Eve and Adam's, from swerve of shore to bend of bay, brings us by a commodius vicus of recirculation back to Howth Castle and Environs.[3]
Furthermore one can point to Joyce's relation to the letter and something of the function of writing for him in terms of "stapling his ego" and sustaining his body via a symptomatic writing which probably stopped him from disappearing altogether into a hole.
Issue # 7 of 
The Lacanian Review
Click below to order a copy now!
Subscribe to The Lacanian Review