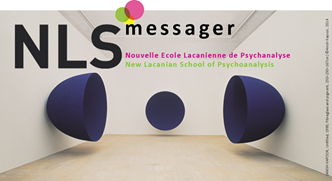 Communiqué
de la New Lacanian School
            Fin janvier 2017, le Conseil de
l'AMP a statué sur les homologations des admissions des membres dans les
Ecoles, parmi lesquelles celles présentées par la Commission des admissions de
la NLS. Furent ainsi admis, comme membres de la NLS :
Alicia Arenas (U.S.A.)
Patricia Bosquin-Caroz (Belgique)
Zully Flomenbaum (Israël)
Els Van Compernolle (Belgique)
            Nous souhaitons la bienvenue aux
nouveaux membres au sein de la NLS, afin qu'ils poursuivent leur action déjà
entreprise dans leur société ou leur groupe, et ce, en lien étroit avec les
activités de l'Ecole et l'esprit qui l'anime, pour servir le discours
analytique dans son intension et son extension.
Paris, le 7 février 2017
Lilia Mahjoub
Présidente de la NLS
******************************************
Communiqué
of the New Lacanian School
            At the end of January 2017, the Council of the WAP decided upon the
approval of the admissions of members to the Schools, including those who were
presented by the Admission Commission to the NLS. Endorsed as members of the
NLS are:
Alicia Arenas (U.S.A.)

 

Patricia Bosquin-Caroz (Belgium)



Zully Flomenbaum (Israel)

Els Van Compernolle (Belgium)

            We wish the new members a warm welcome within the NLS, and that they
pursue the action they have already initiated in their Society or Group in
close connection with the activities of the School and the spirit that guides
it, in order to serve the intention and the expansion of the analytic
discourse.
Paris, 7 February 2017
Lilia Mahjoub
President of the NLS