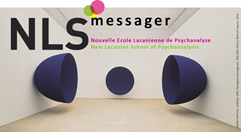 Dear Colleagues,

Our Xth Congress will begin
in exactly a year. The preparatory work follows its intense pace in EBP and in
Rio, but also in each school in its own way. The AMP Council, its Bureau and its
president, Miquel Bassols, keep up with such work giving it their full support
and essential orientation.
A whole structure is being carefully constructed to
receive and support the work towards Brazil next year. The Xth Congress website
has just been put on-line at www.congressoamp2016.com.
It is an open space specially
designed to welcome our ideas and inventions, It waits the data to come,
especially the next days, the practical ones, as for instance what we need to
make our inscriptions.
Skabô is the name of our newsletter, multilingual by birth as
well as its name and our site. Aside from the texts of orientation, each
author will be published only in its own language.
We invite each of you to
discover the site and to use it toward The Speaker Body: the unconscious in
the XXI century.
 Um abraço,
Marcus André
Vieira​
[10th WAP Congress
Director]
---
Chers
collègues,
À un an de notre Xème
Congrès, les travaux de préparation s'intensifient à l'EBP et à Rio, comme au
sein des différentes écoles, chacune dans sa particularité. Le Conseil de l'AMP,
son Président Miquel Bassols ainsi que son bureau, y apportent leur soutien et
leur orientation essentiels. 
Nous mettons en place une
structure pour prendre soin de l'ensemble de notre élaboration vers Rio, mais
aussi pour vous y accueillir en avril 2016.
Le site du Congrès est désormais on-line :
www.congressoamp2016.com. Ce beau lieu de rencontre a été conçu dans ses
moindres détails pour recueillir et faire résonner nos idées, échanges et
inventions. Il évoluera au fur et à mesure de nos avancées, s'enrichissant de
nouvelles contributions et informations. Vous pourrez très prochainement vous
inscrire au Congrès sur le site web.
SKabô est le nom de notre bulletin. Il se veut multilingue
dès sa naissance, tout comme le site. Chaque auteur y sera publié dans sa langue
d'origine, à quelques exceptions près. Seuls les textes d'orientation seront
traduits dans les autres langues de l'AMP.
J'ai le plaisir de vous
inviter à les découvrir et à y participer.
Abraços,
Marcus André
Vieira
[Directeur du
Congrès]