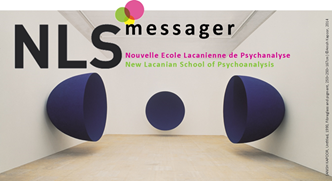 ​
​
– The Lacanian Review No. 1 'Oh my god(s)!!,
The new issue of the Journal of the New Lacanian School and the World
Association of Psychoanalysis
– Scilicet in English
– Eric Laurent: L'Envers de la biopolitique. Une écriture pour la
jouissance.
– Dossia Avdelidi: La psychose
ordinaire
– Mariana Otero & Marie Brémond: 'Like an
open sky', the book (in English)
 Journals of the Groups of the NLS
– Et Lacan Actuel
& Usage of Control (GIEP)
– iNWiT:
"Crisis!" & Via Lacan (Kring)
– Actes du Pont Freudien (Quebec)
– Apprendre la
langue de l'enfant (Bulgaria)
– Psychoanalytical
Notebooks (London Society)
– Lacanian Ink
Selection from the Collection
Rue Huysmans
– La Cause du Désir – LCD 92
– Quarto 94-95 – réédité  sur  la  psychose
 ordinaire
– Quarto  112-113 
– dernier numéro
­- Mental 33 & 34
Karnac Books
Will take orders for the soon to be published The Sinthome: The Seminar of Jacques Lacan, Book XXIII
Stocking a wide range of Lacanian psychoanalytic books, including the
authors :
Agnes Aflalo – Marlene Belilos – Gustavo Dessal – Eric Laurent –
Jacques-Alain Miller – Bogdan Wolf – Stijn Vanheule
… and introducing the uniquely Irish….
   The Winding Stair Bookshop
The Winding Stair Bookshop is one of the oldest
surviving independent bookshops in Dublin. A relaxed haven situated at the Ha'
Penny bridge, in the centre of the bustling city. We specialise in unique
titles not stocked in larger bookstores, combining new and secondhand books. At
the congress we will provide a mix of traditional and contemporary Irish
writers – James Joyce, Yeats, John
McGahern, Edna O' Brien, Anne Enright, Colm Toibín, Colin Barrett and Donal Ryan to name but a few. Our award
winning restaurant upstairs boasts good, old-fashioned home cooking, with
produce sourced from artisans within the island.
For further information please visit: