"From the moment that norms are diversified, we are in the era of
ordinary psychosis.
Ordinary psychosis is coherent with the time of the Other which does not
exist." J.-A.Miller, The Antibes Convention

AUDIO OF THE
PRESENTATION HERE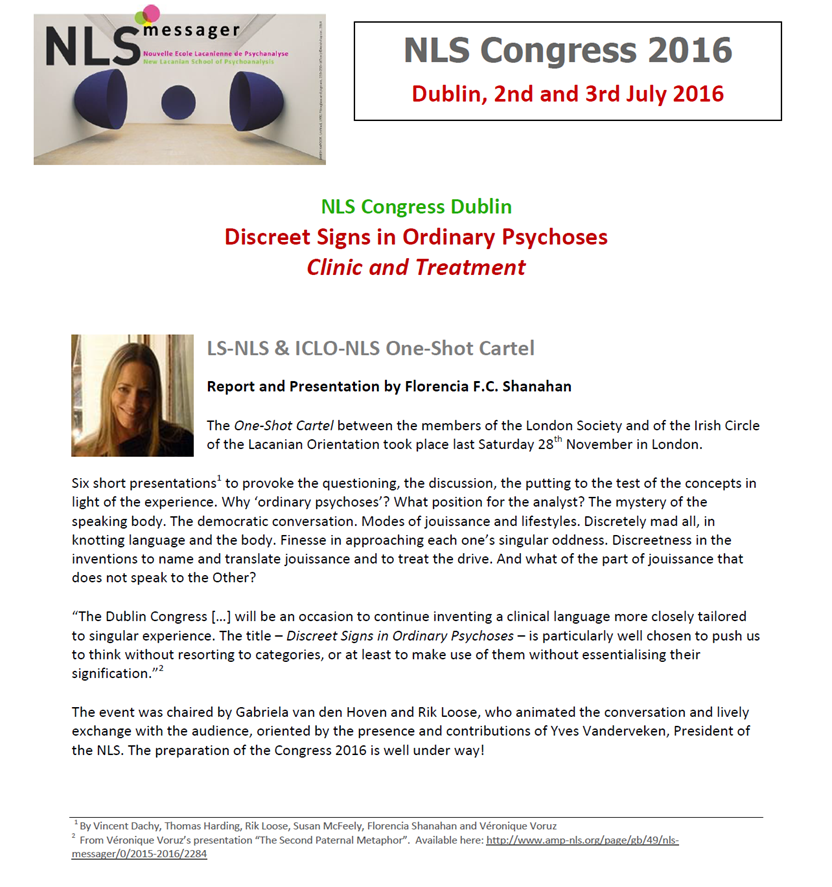 **********
NLS Congress 2016
Dublin,
2
nd
and
3

rd

 

July
2016
Discreet Signs in Ordinary
Psychoses
Clinic and Treatment
 Congress: 140 euro, until 1st March
2016
180 euro, after
Students (- 26 years old): 70 euro
90 euro, after 1st March 2016
 Congress Time:
Saturday 9am – 6pm, Sunday 9am – 3pm.
 Party/Dinner on Saturday evening: 50
euro
Payment can be
made in three ways:
1 – Secure
on-line payment by credit card via ogone – https://amp-nls.org/page/gb/211/registration
2 – Payment by
bank transfer (from EU countries only)
IBAN: BE38 0014
5620 0372, BIC: GEBABEBB
BNP Paribas
Fortis, Agence Albertlaan, Ghent.
3 – Payment by
cheque (French cheques only).
Payable to the
NLS and sent to Lynn Gaillard, 333 rue de la Vie
Dessus, 01170
Echenevex, France.